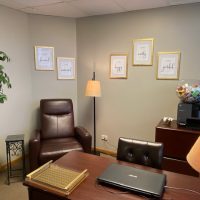 Short Business Description
Hypnosis is a natural state of awareness for everyone - you slip in and out of a self-hypnotic state 7 out of every 90 minutes, everyday. Angie guides her clients into a hypnotic state to deliver the suggestions that are relevant to the change they want to make. Angie has conducted more than 1000 private sessions, and is skilled in making all of her clients feel relaxed, open and ready to embrace this unique pathway to changing their lives.
Long Business Description
Do you have a habit you are trying to kick, like smoking or over-eating? Or perhaps you're a parent who is watching a child struggle with self-confidence or focusing in school? As a leading South Denver hypnotherapy practice that specializes in hypnosis therapy, Egan Hypnotherapy is here to help you make the break-through you've been looking for. We serve the South Denver and Denver Metro areas, with our office located in Parker, Colorado.